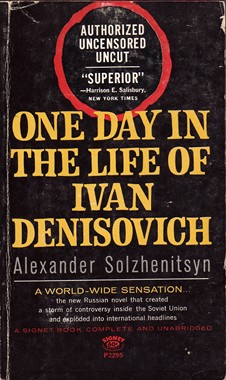 naslov

One Day in The Life of Ivan Denisovich

autor

Alexander Solzhenitsyn (Aleksandar Solženjicin)

prevod

translated by Ralph Parker /with an intro by Marvin L. Kalb /foreword by Alexander Tvardovsky

šifra

B-19964

izdanje

first American paperback edition : first printing

jezik

engleski

pismo

latinica

biblioteka

A Signet Book / P2295

izdavač

Published by The New American Library of World Literature Inc. New York.

štamparija

Printed in the United States of America.

godina

1963.

opis

mek povez, ilustr korice, 158 strana, 18cm

stanje

vrlo dobro

cena

500.-din

knjiga status

u prodaji

širi opis

The authentic expose of life in one of Stalin's forced-labor camps. It is a moving and powerful story of one man's unceasing struggle to preserve a shred of human dignity in a world that would reduce him to the level of animal.